Broken iPhone, Lap top or Games Consoles?.. We repair them!
Phone Repairs - Cracked Phone Screens repaired quickly at the most competitive price - By the experts!
For Phone Repairs call - The Repair Centre, based in Sutton in Ashfield. We have a purpose built electronics repair lab. With the very latest testing equipment we specialise in Phone Repairs, Game Consoles Repairs, Tablet Repairs and a host of repairs to Computers and current electronic equipment. Established for over 35 years in the same premises in Market Street, Sutton in Ashfield we are well respected in the community and have a reputation for quality electrical repairs and great Customer Service. All at the most competitive prices too.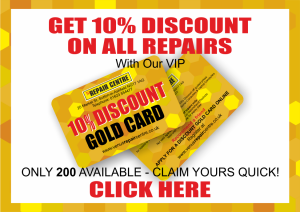 Excellent Value Games Console Repairs
All our electrical repairs are guaranteed to be of the highest quality and at the best value you can find. We only use parts that we are pleased to recommend and that we believe offer the best wear and tear. Call in to get a free estimate today!
Our High Street Phone Repair Shop is on Market Street, Sutton in Ashfield
iPhone repairs are one of our most common repairs carried out. If you have a cracked or broken iPhone screen simply pick up the phone and talk to us or call in to our high street phone shop on Market Street, Sutton in Ashfield.
High-Tech Lab for in-house Lap-Top and Phone repairs
All of our repairs are carried out in-store in our purpose designed Repair Lab. Fitted out with the latest Electronics Diagnostic and Repair Equipment it means that we do not send your faulty phones and broken Lap-tops away, we simply repair them on the premises.
Experienced Electronics Repair Technicians
Our Repair Technicians are experienced in all types of repairs to most popular makes of phone and games machine. Check through our website to see the many types of faults we repair to electronic equipment.
Other Electronic Equipment Repairs
We get all sorts of requests for electronic equipment repairs. We have undertaken Hover Board Repairs; Electric Scooter Repairs; Karaoke Machine Repairs as well as the normal Computer repairs and upgrades. We'll even install and upgrade software for you if you are struggling.
Quality Repairs you can rely upon!
There is no safer bet than to entrust your Mobile Phone repair to us.
We have a low cost inspection fee to establish what the problem is and then we can give you a quote
for the actual repair. Just let us know what you need repairing and in most instances we will give you an immediate quote.
Check the menu bar at the top or use our site search engine to find your product
We always confirm the cost prior to undertaking any work! If you can't see your product or fault in the lists, please contact us and ask!
Our laboratory area houses a number of micro soldering stations as well as inspection, calibration and testing equipment.
Microscopic Repairs to mobile phones
This coupled with the experience and technical knowledge of our Lab Technicians, enables us to undertake some of the most minute repairs right down to printed curcuit board level.
We also undertake board level electronic repairs for the trade!