APPLY NOW FOR YOUR
10% DISCOUNT VIP GOLD CARD
They say "Fair Exchange Is No Robbery!"
Well, we have a Great Deal for you here...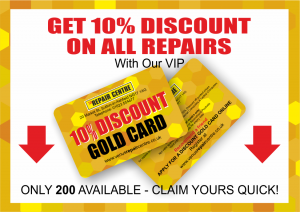 In exchange for you giving us a Facebook "Like" and importantly, "Sharing" our Facebook Page
Then completing our News Letter Sign-up form below, we will either send you, or you can pick up your own
10% DISCOUNT VIP GOLD CARD - FOR FREE!

We promise not to bombard you with loads of rubbish, just occasional promotions a few times per year.
And we certainly will NOT sell your details to any other company
You can unsubscribe at any time - Just return your card to the shop.
eyJpZCI6IjEyIiwibGFiZWwiOiJHb2xkIENhcmQgUmVnaXN0cmF0aW9uIiwiYWN0aXZlIjoiMSIsIm9yaWdpbmFsX2lkIjoiMSIsInVuaXF1ZV9pZCI6IndlZmoyIiwicGFyYW1zIjp7ImVuYWJsZUZvck1lbWJlcnNoaXAiOiIwIiwidHBsIjp7IndpZHRoIjoiMTAwIiwid2lkdGhfbWVhc3VyZSI6IiUiLCJiZ190eXBlXzAiOiJub25lIiwiYmdfaW1nXzAiOiIiLCJiZ19jb2xvcl8wIjoiIzgxZDc0MiIsImJnX3R5cGVfMSI6ImNvbG9yIiwiYmdfaW1nXzEiOiIiLCJiZ19jb2xvcl8xIjoiIzMzMzMzMyIsImJnX3R5cGVfMiI6ImNvbG9yIiwiYmdfaW1nXzIiOiIiLCJiZ19jb2xvcl8yIjoiIzMzMzMzMyIsImJnX3R5cGVfMyI6ImNvbG9yIiwiYmdfaW1nXzMiOiIiLCJiZ19jb2xvcl8zIjoiIzMzMzMzMyIsImZpZWxkX2Vycm9yX2ludmFsaWQiOiIiLCJmb3JtX3NlbnRfbXNnIjoiVEhBTktTIC0gV0UnVkUgR09UIFRIQVQhIiwiZm9ybV9zZW50X21zZ19jb2xvciI6IiNkZDMzMzMiLCJoaWRlX29uX3N1Ym1pdCI6IjEiLCJyZWRpcmVjdF9vbl9zdWJtaXQiOiIiLCJ0ZXN0X2VtYWlsIjoiYW5keUBmcnV1LmNvLnVrIiwic2F2ZV9jb250YWN0cyI6IjEiLCJleHBfZGVsaW0iOiI7IiwiZmJfY29udmVydF9iYXNlIjoiIiwiZmllbGRfd3JhcHBlciI6IjxkaXYgW2ZpZWxkX3NoZWxsX2NsYXNzZXNdIFtmaWVsZF9zaGVsbF9zdHlsZXNdPltmaWVsZF08XC9kaXY+In0sImZpZWxkcyI6W3siYnNfY2xhc3NfaWQiOiI2IiwibmFtZSI6ImZpcnN0X25hbWUiLCJsYWJlbCI6IiIsInBsYWNlaG9sZGVyIjoiRmlyc3QgTmFtZSIsInZhbHVlIjoiIiwiaHRtbCI6InRleHQiLCJtYW5kYXRvcnkiOiIxIiwibWluX3NpemUiOiIiLCJtYXhfc2l6ZSI6IiIsImFkZF9jbGFzc2VzIjoiIiwiYWRkX3N0eWxlcyI6IiIsImFkZF9hdHRyIjoiIiwidm5fb25seV9udW1iZXIiOiIwIiwidm5fb25seV9sZXR0ZXJzIjoiMCIsInZuX3BhdHRlcm4iOiIwIn0seyJic19jbGFzc19pZCI6IjYiLCJuYW1lIjoibGFzdF9uYW1lIiwibGFiZWwiOiIiLCJwbGFjZWhvbGRlciI6Ikxhc3QgTmFtZSIsInZhbHVlIjoiIiwiaHRtbCI6InRleHQiLCJtYW5kYXRvcnkiOiIwIiwibWluX3NpemUiOiIiLCJtYXhfc2l6ZSI6IiIsImFkZF9jbGFzc2VzIjoiIiwiYWRkX3N0eWxlcyI6IiIsImFkZF9hdHRyIjoiIiwidm5fb25seV9udW1iZXIiOiIwIiwidm5fb25seV9sZXR0ZXJzIjoiMCIsInZuX3BhdHRlcm4iOiIwIn0seyJic19jbGFzc19pZCI6IjEyIiwibmFtZSI6ImVtYWlsIiwibGFiZWwiOiIiLCJwbGFjZWhvbGRlciI6IkVtYWlsIiwidmFsdWUiOiIiLCJodG1sIjoiZW1haWwiLCJtYW5kYXRvcnkiOiIxIiwibWluX3NpemUiOiIiLCJtYXhfc2l6ZSI6IiIsImFkZF9jbGFzc2VzIjoiIiwiYWRkX3N0eWxlcyI6IiIsImFkZF9hdHRyIjoiIiwidm5fb25seV9udW1iZXIiOiIwIiwidm5fb25seV9sZXR0ZXJzIjoiMCIsInZuX3BhdHRlcm4iOiIwIn0seyJic19jbGFzc19pZCI6IjEyIiwibmFtZSI6InN1YmplY3QiLCJsYWJlbCI6IiIsInBsYWNlaG9sZGVyIjoiU3ViamVjdCIsInZhbHVlIjoiR09MRCBDQVJEIEFQUExJQ0FUSU9OIiwidmFsdWVfcHJlc2V0IjoiIiwiaHRtbCI6InRleHQiLCJtYW5kYXRvcnkiOiIxIiwibWluX3NpemUiOiIiLCJtYXhfc2l6ZSI6IiIsImFkZF9jbGFzc2VzIjoiIiwiYWRkX3N0eWxlcyI6IiIsImFkZF9hdHRyIjoiIiwidm5fb25seV9udW1iZXIiOiIwIiwidm5fb25seV9sZXR0ZXJzIjoiMCIsInZuX3BhdHRlcm4iOiIwIiwidm5fZXF1YWwiOiIiLCJpY29uX2NsYXNzIjoiIiwiaWNvbl9zaXplIjoiIiwiaWNvbl9jb2xvciI6IiIsInRlcm1zIjoiIn0seyJic19jbGFzc19pZCI6IjEyIiwibmFtZSI6ImZhY2Vib29rX25hbWUiLCJsYWJlbCI6IiIsInBsYWNlaG9sZGVyIjoiUGxlYXNlIHRlbGwgdXMgeW91ciBGYWNlYm9vayBOYW1lIEhlcmUgLSBXZSdkIGxvdmUgdG8gc2VuZCB5b3UgYSBGcmllbmQgUmVxdWVzdC4uLiIsInZhbHVlIjoiIiwidmFsdWVfcHJlc2V0IjoiIiwiaHRtbCI6InRleHRhcmVhIiwibWFuZGF0b3J5IjoiMSIsIm1pbl9zaXplIjoiIiwibWF4X3NpemUiOiIiLCJhZGRfY2xhc3NlcyI6IiIsImFkZF9zdHlsZXMiOiIiLCJhZGRfYXR0ciI6IiIsInZuX29ubHlfbnVtYmVyIjoiMCIsInZuX29ubHlfbGV0dGVycyI6IjAiLCJ2bl9wYXR0ZXJuIjoiMCIsInZuX2VxdWFsIjoiIiwiaWNvbl9jbGFzcyI6IiIsImljb25fc2l6ZSI6IiIsImljb25fY29sb3IiOiIiLCJ0ZXJtcyI6IiJ9LHsiYnNfY2xhc3NfaWQiOiI2IiwibmFtZSI6IkZhY2Vib29rIiwibGFiZWwiOiJZZXMgSSBoYXZlIHNoYXJlZCBZb3VyIFBhZ2Ugb24gRmFjZWJvb2sgKFJlcXVpcmVkKSIsInZhbHVlIjoiIiwidmFsdWVfcHJlc2V0IjoiIiwiaHRtbCI6ImNoZWNrYm94IiwiZGVmX2NoZWNrZWQiOiIwIiwibWFuZGF0b3J5IjoiMSIsImFkZF9jbGFzc2VzIjoiIiwiYWRkX3N0eWxlcyI6IiIsImFkZF9hdHRyIjoiIiwiaWNvbl9jbGFzcyI6IiIsImljb25fc2l6ZSI6IiIsImljb25fY29sb3IiOiIiLCJ0ZXJtcyI6IiJ9LHsiYnNfY2xhc3NfaWQiOiI2IiwibmFtZSI6Ik1haWxpbmdfTGlzdF9BZGQiLCJsYWJlbCI6IllFUyAtIEFkZCBtZSB0byB5b3VyIG1haWxpbmcgbGlzdC0gLSBJIHdhbnQgYSBEaXNjb3VudCBHb2xkIENhcmQgKFJlcXVpcmVkKSIsInZhbHVlIjoiIiwidmFsdWVfcHJlc2V0IjoiIiwiaHRtbCI6ImNoZWNrYm94IiwiZGVmX2NoZWNrZWQiOiIwIiwibWFuZGF0b3J5IjoiMSIsImFkZF9jbGFzc2VzIjoiIiwiYWRkX3N0eWxlcyI6IiIsImFkZF9hdHRyIjoiIiwiaWNvbl9jbGFzcyI6IiIsImljb25fc2l6ZSI6IiIsImljb25fY29sb3IiOiIiLCJ0ZXJtcyI6IiJ9LHsiYnNfY2xhc3NfaWQiOiIxMiIsIm5hbWUiOiJDb2xsZWN0X1Bvc3QiLCJsYWJlbCI6IlBsZWFzZSBjaG9vc2UgYSBtZWFucyBvZiByZWNlaXZpbmcgeW91ciBHb2xkIENhcmQgZnJvbSB0aGlzIGRyb3AgZG93biBsaXN0IiwidmFsdWUiOiIiLCJ2YWx1ZV9wcmVzZXQiOiIiLCJodG1sIjoic2VsZWN0Ym94IiwibWFuZGF0b3J5IjoiMSIsImxhYmVsX2RlbGltIjoiIiwiYWRkX2NsYXNzZXMiOiIiLCJhZGRfc3R5bGVzIjoiIiwiYWRkX2F0dHIiOiIiLCJpY29uX2NsYXNzIjoiIiwiaWNvbl9zaXplIjoiIiwiaWNvbl9jb2xvciI6IiIsInRlcm1zIjoiIiwib3B0aW9ucyI6W3sibmFtZSI6IkNvbGxlY3QiLCJsYWJlbCI6IkNvbGxlY3QgRnJvbSBUaGUgU2hvcCJ9LHsibmFtZSI6IlBvc3QiLCJsYWJlbCI6IlBsZWFzZSBQb3N0IHRvIHRoZSBhZGRyZXNzIGJlbG93In1dfSx7ImJzX2NsYXNzX2lkIjoiMTIiLCJuYW1lIjoiQWRkcmVzcyIsImxhYmVsIjoiUGxlYXNlIHNlbmQgdG8gdGhlIGZvbGxvd2luZyBhZGRyZXNzIiwicGxhY2Vob2xkZXIiOiJXZSBvbmx5IG5lZWQgeW91ciBhZGRyZXNzIGlmIHlvdSB3YW50IHVzIHRvIHBvc3QgeW91ciBjYXJkIHRvIHlvdSIsInZhbHVlIjoiIiwidmFsdWVfcHJlc2V0IjoiIiwiaHRtbCI6InRleHQiLCJtYW5kYXRvcnkiOiIwIiwibWluX3NpemUiOiIiLCJtYXhfc2l6ZSI6IiIsImFkZF9jbGFzc2VzIjoiIiwiYWRkX3N0eWxlcyI6IiIsImFkZF9hdHRyIjoiIiwidm5fb25seV9udW1iZXIiOiIwIiwidm5fb25seV9sZXR0ZXJzIjoiMCIsInZuX3BhdHRlcm4iOiIiLCJ2bl9lcXVhbCI6IiIsImljb25fY2xhc3MiOiIiLCJpY29uX3NpemUiOiIiLCJpY29uX2NvbG9yIjoiIiwidGVybXMiOiIifSx7ImJzX2NsYXNzX2lkIjoiNiIsIm5hbWUiOiJwaG9uZS10eXBlIiwibGFiZWwiOiJQaG9uZSBUeXBlIiwicGxhY2Vob2xkZXIiOiJXaGF0IFBob25lXC9zIGRvIHlvdSB1c2UiLCJ2YWx1ZSI6IiIsInZhbHVlX3ByZXNldCI6IiIsImh0bWwiOiJ0ZXh0IiwibWFuZGF0b3J5IjoiMCIsIm1pbl9zaXplIjoiIiwibWF4X3NpemUiOiIiLCJhZGRfY2xhc3NlcyI6IiIsImFkZF9zdHlsZXMiOiIiLCJhZGRfYXR0ciI6IiIsInZuX29ubHlfbnVtYmVyIjoiMCIsInZuX29ubHlfbGV0dGVycyI6IjAiLCJ2bl9wYXR0ZXJuIjoiIiwidm5fZXF1YWwiOiIiLCJpY29uX2NsYXNzIjoiIiwiaWNvbl9zaXplIjoiIiwiaWNvbl9jb2xvciI6IiIsInRlcm1zIjoiIn0seyJic19jbGFzc19pZCI6IjYiLCJuYW1lIjoiZWxlY3Ryb25pY3MiLCJsYWJlbCI6IlRlbGwgVXMgV2hhdCBFbGVjdHJpY2FsIEVxdWlwbWVudCBZb3UgSGF2ZSIsInBsYWNlaG9sZGVyIjoiV2UnbGwgVGVsbCBZb3UgV2hlbiBXZSBIYXZlIEFueSBPZmZlcnMgT24iLCJ2YWx1ZSI6IiIsInZhbHVlX3ByZXNldCI6IiIsImh0bWwiOiJ0ZXh0IiwibWFuZGF0b3J5IjoiMCIsIm1pbl9zaXplIjoiIiwibWF4X3NpemUiOiIiLCJhZGRfY2xhc3NlcyI6IiIsImFkZF9zdHlsZXMiOiIiLCJhZGRfYXR0ciI6IiIsInZuX29ubHlfbnVtYmVyIjoiMCIsInZuX29ubHlfbGV0dGVycyI6IjAiLCJ2bl9wYXR0ZXJuIjoiIiwidm5fZXF1YWwiOiIiLCJpY29uX2NsYXNzIjoiIiwiaWNvbl9zaXplIjoiIiwiaWNvbl9jb2xvciI6IiIsInRlcm1zIjoiIn0seyJic19jbGFzc19pZCI6IjYiLCJuYW1lIjoic2VuZCIsImxhYmVsIjoiU2VuZCIsImh0bWwiOiJzdWJtaXQiLCJhZGRfY2xhc3NlcyI6IiIsImFkZF9zdHlsZXMiOiIiLCJhZGRfYXR0ciI6IiJ9LHsiYnNfY2xhc3NfaWQiOiI2IiwibmFtZSI6InJlc2V0IiwibGFiZWwiOiJSZXNldCIsImh0bWwiOiJyZXNldCIsImFkZF9jbGFzc2VzIjoiIiwiYWRkX3N0eWxlcyI6IiIsImFkZF9hdHRyIjoiIn1dLCJvcHRzX2F0dHJzIjp7ImJnX251bWJlciI6IjQifX0sImltZ19wcmV2aWV3IjoiYmFzZS1jb250YWN0LmpwZyIsInZpZXdzIjoiMTI2IiwidW5pcXVlX3ZpZXdzIjoiMTA0IiwiYWN0aW9ucyI6IjciLCJzb3J0X29yZGVyIjoiMSIsImlzX3BybyI6IjAiLCJhYl9pZCI6IjAiLCJkYXRlX2NyZWF0ZWQiOiIyMDE2LTA1LTAzIDE1OjAxOjAzIiwiaW1nX3ByZXZpZXdfdXJsIjoiaHR0cDpcL1wvc3Vwc3lzdGljLTQyZDcua3hjZG4uY29tXC9fYXNzZXRzXC9mb3Jtc1wvaW1nXC9wcmV2aWV3XC9iYXNlLWNvbnRhY3QuanBnIiwidmlld19pZCI6IjEyXzMzNzYwNyIsInZpZXdfaHRtbF9pZCI6ImNzcEZvcm1TaGVsbF8xMl8zMzc2MDciLCJjb25uZWN0X2hhc2giOiI5NmFiNDhkNTQ4ZTM2YTFiNTZmNjdmNTU0YjE5ZDg0YSJ9
Current Expiry Date (This may be extended)
At present the 10% VIP DISCOUNT GOLD CARD
IS VALID UNTIL
31st DECEMBER 2020